The Early Years Catalyst recently completed a major systems mapping process to identify the forces influencing early childhood development outcomes in Australia today and possible leverage points for transformational change to ensure significantly more children in Australia are thriving in their first 2,000 days and beyond. A range of possible leverage points were identified and explored through the 'sense making and exploration' phase of the systems mapping process – the Systems Mapping Report identifies nearly 60 leverage points across six categories of leverage in the system.
The Early Years Catalyst is seeking to commission a rapid assessment of the leverage points identified through the systems mapping process and their relative potential for impact on early childhood development outcomes with the aim of establishing an evidence-based inventory of interventions to transform Australia's early years system. It is envisaged that the assessment will canvass:
intent and potential impact on early childhood development outcomes
suggested/possible approach(es) to implementation including pre-conditions
case study examples of successful implementation or relevant promising practice, learnings and evidence of impact
implementation costs and timelines drawing on successful implementation from other jurisdictions or other similar reforms
significant barriers to implementation and potential unintended consequences.
Further information about the project including timelines and submission requirements can be found in the attached Request for Tender document.
Proposals must be submitted via email by 5pm on Thursday 24 November 2022 to the Early Years Catalyst Backbone Team at backbone@earlyyearscatalyst.org.au.
For further information, please contact Geoff Sharp, Early Years Catalyst Lead via backbone@earlyyearscatalyst.org.au.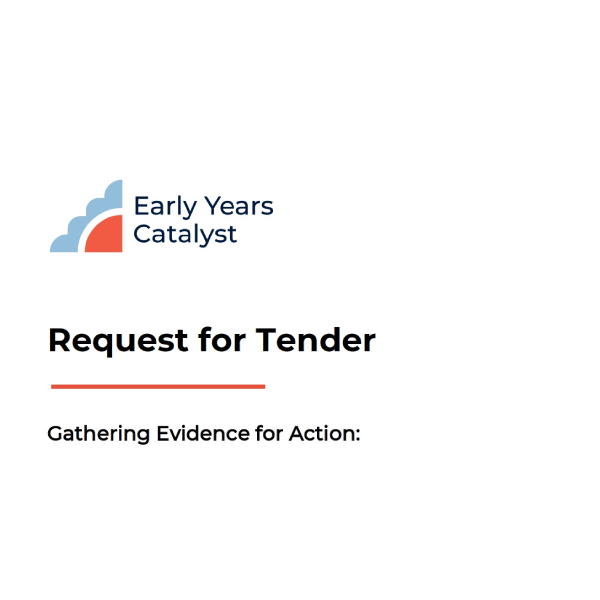 Download PDF
November 10th, 2022