The Early Years Catalyst's systems mapping process uncovered a range of deeply held societal beliefs including about children, families, parenting, caring and poverty – that participants believe are maintaining unacceptably high levels of disadvantage in the early years. In imagining a distinctly different and better future early years system, participants also called for big shifts in our collective values, beliefs and attitudes so that as a society, we prioritise the (lifelong) well-being of all children in Australia and recognise that raising thriving children (and families) is the work of the whole nation.
The Early Years Catalyst is seeking to commission a deep dive into the mental models surfaced through the systems mapping process to better understand them and how they could be influenced as well as a tailored co-designed strategy and implementation plan to foster the big societal shifts that are needed if we are to truly disrupt and transform Australia's early years system.
It is envisaged that the deep dive will answer the following three questions:
What does the Early Years Catalyst and wider field need to understand both about the mental models that are holding current conditions in place and the mental models that are required to support the desired future state of Australia's early years system?
What are the most effective strategies available to shift mental models?
What is the recommended approach to shifting the mental models shaping early childhood development outcomes in Australia today?
Further information about the project including timelines and submission requirements can be found in the attached Request for Tender document.
Expressions of interest must be submitted via email by midday on Monday 16 January 2023 to the Early Years Catalyst Backbone Team at backbone@earlyyearscatalyst.org.au. Full proposals must be submitted (also via email) by 5pm on Friday 30 January 2023.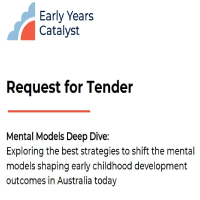 Download PDF
December 20th, 2022